The Hart Foundation vs. The Rockers
 - This review has been reprinted with permission from the History of Wrestling book Superstar Series: The Hart Foundation.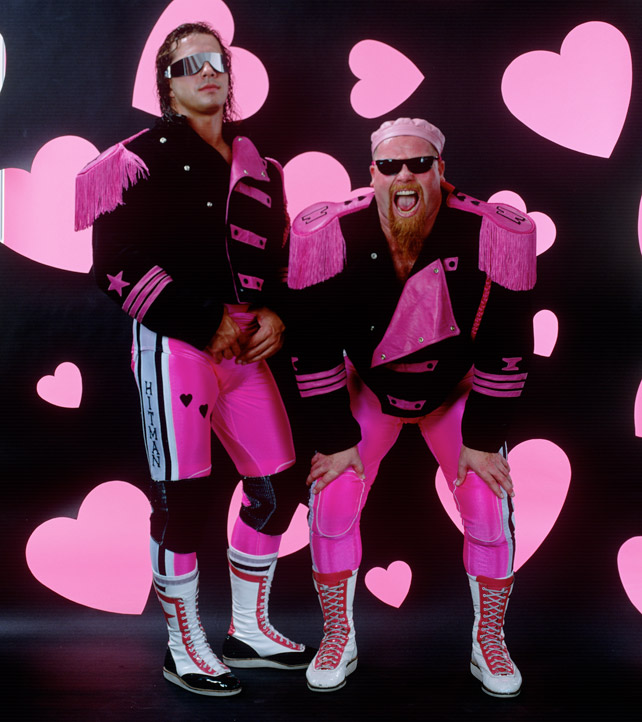 [30/03/1991 - SWS/WWF WrestleFest, Tokyo Dome, Tokyo, Japan]

This is something of a rarity, coming as it does from the WrestleFest event at Tokyo's Egg Dome baseball stadium, a combined supercard put together by the WWF in conjunction with the Super World of Sports promotion out of Japan. For the uninitiated, SWS was essentially a money-mark promotion founded in 1990 by Hachiro Tanaka, an executive of Japanese eyeglass manufacturing group Megane Super. Armed with top star Genichiro Tenryu and a string of for All Japan Pro Wrestling and New Japan Pro Wrestling names, the group cut a deal in October with Vince McMahon to bring WWF talent to its cards in order to supplant the American names it initially featured, notably the likes of Bob Orton, Jr., the Samoan Swat Team (later the Headshrinkers) and a young Jeff Jarrett.

The working relationship between the two outfits led to top WWF names like Hulk Hogan, Ric Flair and the Ultimate Warrior flying in for major matches, while underutilised names like Haku began to find regular work in Japan as the WWF looked to raise brand awareness in the Orient (the group would go on to run its own four-date Japanese tour in 1994 with assistance from Tenryu's SWS offshoot/replacement WAR, which proved an unsuccessful venture.)

Naturally, since this event was taped for broadcast on Japanese television, the commentary comes in Japanese, provided here by Ryo Itsuno, Takashi Kikuchi, Shinpei Hayashi, and WWF representative Akio Sato, who until late 1990 had been part of the Orient Express with (Pat) Tanaka, and would return in 1995 to manage Hakushi (Jinsei Shinzaki) under the Shinja moniker. And while I did earlier note this match as being something of a rarity, WWE were good enough to include the outing (albeit in degenerated form) on its Greatest Rivalries: Shawn Michaels vs. Bret Hart DVD and Blu-ray release in 2011, which rather helpfully (and amusingly) comes complete with subtitles, making for a very unique way to watch a pro wrestling match.

It seems like WWE's production team had some fun with the translations too, Japanese monster movie style, with some very literal interpretations of the ringside analysis. The announcers start by noting that the Rockers debuted for SWS back in January, and that the Hart's match with Demolition in Philadelphia (their 2/3 falls scrap at SummerSlam) is still fresh in the minds of the Japanese fans. Commentators on a WWF match in 1991 recalling recent history? How bizarre! There's also a reference to (an admittedly dead) rival promotion, coupled with some terrific Japanglish: "(The Rockers) became AWA World Tag Team Champions in 1987 and 1988. And in late 1988, they made it to the WWF's Triple Crown Match. They are the kings of tag!" The kings of tag? What, the school playground game? And what on earth is "the WWF's Triple Crown Match" anyway? The comedy continues as Shinpei-san notes "They look like fighting guppies" and suggests they "move like a coupled mirror."




The match follows a similar structure to the one from Madison Square Garden in November 1989, which I only bring up as that match is also on the Greatest Rivalries release, making it much more noticeable when viewed back-to-back. Neidhart's hellacious double clothesline still gets a big pop, but this being Japan, the crowd aren't particularly as rabid as a crowd in the US may appear to be. Shawn takes a gigantic backdrop from Neidhart which impresses the hell out of everyone, but the announcers seem to start taking potshots at US wrestling, noting that bearhugs are common in that culture. Mate, just stick around for the IRS: The Chinlock Years!

Neidhart whips Shawn into the corner, bringing about more hilarious translation tomfoolery; "He's giving up on the physical confrontation! We're seeing bewildering tactics on both sides!" Bewildering commentary more like, as despite there being four announcers stationed ringside, they keep pestering Sato for clarification on who is who, and reiterating that this is, in fact, the Hart Foundation vs. the Rockers. It's kind of like when you have to suffer through English-speaking commentators who can't be bothered to learn the names of any Japanese wrestlers. Itsuno even gets Bret and Neidhart muddled up, like he's the ghost of Rod Tronguard.

"Both guys are on the floor!" belts out Itsuno during a Bret and Shawn double down. "It's a lose-lose situation!" Indeeeed. "The Rockers are overcome with nervousness. They're trying to turn the Big Egg into a Big Cake!" If only that were literal. They trade off on some more reversals and, according to the commentary "the best wrestlers are challenging each other", which might well be true but comes across like a bit of an insulting way to say Neidhart and Jannetty aren't as good as their partners. Bret puts his head down and Shawn goes for a sunset flip, or to put it another way, "he's challenging him with a spin!" Unfortunately for our Shawn, "his belly is a little bit sweaty", so he only scores a two-count.

Eventually, all four guys make it back inside the ring, leading to a nifty sequence that ends with Shawn landing a crossbody on Bret, only for Bret to reverse it into a cradle for the pin at 14:38. I know Bret spent time in New Japan years earlier (as noted by the announcers) and was the biggest star of the four guys in this match, but to this day I'm still not sure why the Harts went over here given that their team was all but finished by this point and the Rockers were the ones most likely to come back to Japan (Shawn in fact would tour somewhat regularly with SWS following his heel turn on Jannetty.)

Good match, though with the quiet Japanese crowd and the echo of the cavernous Dome setting, it all felt a little bit stifled, and the slightly truncated nature of things is another knock against. Still, a disappointment for these two teams is like a career best for some, and it was nice to see these guys working against one another in a different environment than usual.

Final Rating: ***1/2

———




Superstar Series: The Hart Foundation

The most comprehensive, in-depth guide to legendary WWF tag team The Hart Foundation ever published, this book features full reviews of over 150 Hart Foundation matches, the majority of which are exclusive to this guide!

From PPV to TV to house shows and everything in between, every available bout featuring this dynamic duo is covered in our trademark History of Wrestling style!

As well as chronological match reviews, there are also the usual star ratings, random musings, facts, and behind-the-scenes information. Not only that, but there is also an exhaustive and exclusive list of every Hart Foundation match known to have ever taken place.

A must have for all fans of the team! 106 pages!


• Over 150 Hart Foundation matches!
• Complete reviews and star ratings!
• Behind the scenes information!
• Complete chronology of the team!
• All PPVs, TV and house shows!
• Exclusive content!

Click to order from Lulu.com!

Click to order on Kindle from Amazon!

———

www.historyofwrestling.info
www.twitter.com/HOWwrestling